Simple or complex query language
Fast searching within documents and metadata
Building and updating the index in the background
Indexing and searching takes place exclusively on your computer
Preview of files and metadata
Updating files on-the-fly when they are modified
Free for personal, educational and commercial use
Can be used, for example, to search scientific papers, bank statements or invoices
---
Screenshot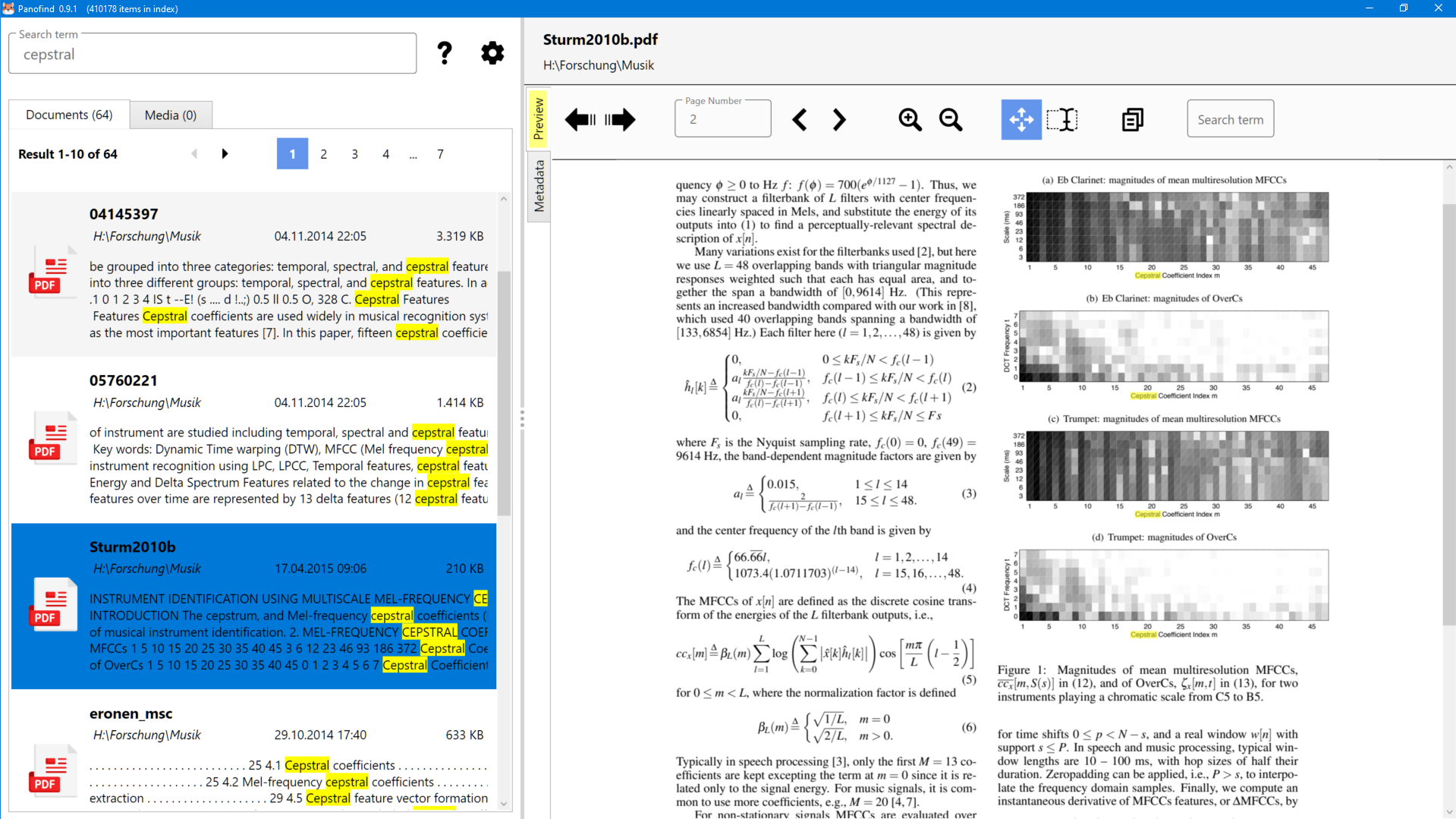 ---
Quick Start
After installation, the selected folders are scanned for files for indexing. Initially, only your private folders "Documents", "Music", "Video" and "Pictures" are scanned. You can add or remove folders to be indexed in the settings (subfolders are automatically included).
Indexing starts a few minutes after installation and can even take several hours. You can start the search application at any time; the current number of items indexed so far is displayed in the title bar of the search application window (behind the application name and version number).
As soon as Panofind has indexed documents, you can start searching - however, not all documents will be found until indexing is complete (this is approximately when the number of items stops increasing). The tool detects all changes to files and re-indexes the changed files after they have been closed. It also checks all files again from time to time.
At the beginning, the simple search mode is active, you can simply enter a few search terms as in Google. It then finds the search term or all words that begin with the search term. In the settings, you can switch to the advanced mode, which offers various modifiers to make the search query more precise.
When you click on a search result, a preview of the file is displayed in the right column (with some navigation options and an additional option "Search in document"). When you double-click on a search result, the file is opened in the associated viewer (as is the case when you double-click on the file name at the top of the right-hand column).
By default, a number of file formats are selected (e.g. Excel, text or MP3) to be indexed; you can change this in the settings. However, it is also possible to change this general selection per indexed folder (add or remove certain file formats).
Note: If you select too many formats and/or too many folders, the index becomes very large.
---
Supported File Formats
Plain Text Format (txt, readme, etc.)
Rich Text Format (rtf)
Portable Document Format (pdf)
Microsoft Word (doc, docx, dot, dotx, dotm, docm)
Microsoft Excel (xls, xlsx, xlt, xltx, xltm, xlsb, xlsm)
Microsoft Powerpoint (pptm, pptx, potx, potm)
OpenDocument (odt, ott, ods, ots, odp, otp) - Only if LibreOffice is installed
Comma-Separated Values (csv)
eBooks (epub, azw3, azw, mobi, prc)
HTML pages (html, htm, xhtml)
Video (mkv, ogv, avi, wmv, asf, mp4, m4p, m4v, mpeg, mpg, mpe, mpv, m2v)
Audio (aa, aax, aac, aiff, ape, dsf, flac, m4a, m4b, mp3, mpc, mpp, ogg, oga, wav, wma, wv)
Image (bmp, gif, jpg, pbm, pgm, ppm, pnm, pcx, png, tiff, dng, webm)
Compressed Archives (zip, zipx, rar, tar, gz, 7z)
---
Supported UI Languages
English
German
French
Hebrew (including RTL support)
If you are interested in translating Panofind from English into your language, please send an email to
support@panofind.com